Gorgeous evergreen ground cover with petite mauve and white flowers. Ideal lawn substitute in under-plantings and shaded spots. Beautiful left to spill over hanging baskets.
Spreading native groundcover. Kidney shaped leaves & white viola shaped flowers with mauve centers. Can be used in rockeries as groundcover.
Fairly low maintenance. Normally quite easy to grow.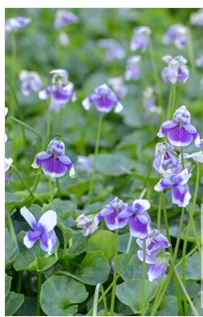 Viola hederacea Growing Guide
Sow (when, temp, soil, location)
sunny to part shade
loose draining soil
Harvest/Germination
Care/Watering
plenty of water during first 12 wks or till plant is established
water regularly in dry season
in spring & summer: feed (liquid fertiliser) monthly
Companions
—
Enemies
—
Other Notes
ht: 5-15cm
tolerates frost
rockeries, mass plantings, pots, hanging baskets, groundcover
---
Our Viola hederacea Progress
Bought ours as tube stock plants (AustraliaPlantsOnline).
—
---
References:
---