Small glossy evergreen tropical with golden-sand flowers, spring and summer. Flowers grows in clusters on a rounded compact bush. Tropical plant.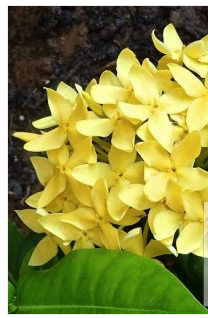 Ixora Drawf Growing Guide
Sow (when, temp, soil, location)
ground, tubs, pots, windowboxes and stepover hedges.
Care/Watering
frequent watering.  They like humid conditons.
Prune after flowering for dense growth
if leaves turn yellow during long dry periods, feed with liquid fertiliser (e.g eco seaweed)
not frost tolerant
Companions
—
Enemies
—
Other Notes
---
Our Ixora Drawf Sunshine Progress
Seedling from Australian Plants Online.
---
References:
---