Basil can be grown indoor or outdoor.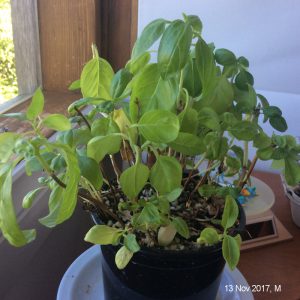 Basil Growing Guide
When
Sow:
early summer, or in  pots
can be propagated from cuttings
Harvest:
Soil
Frost Tolerant
Spacing
single plant: 20cm
rows: 15cm
Care/Watering
watering seedlings: cannot handle deep watering. Use sprayer or mister.
water when dry: use finger test
watering adult, in ground: usually weekly but check dryness/over moisture (can produce rotting, mildew, fungus)

cuttings

: place in glass of water, on windowsill, with good sunlight.  Change water every few days. Wait till roots are about 2 inches long (maybe 2-4 weeks) before transplanting.
Harvest
harvest leaves to keep it bushy
Companions
apricot, capsicum, tomato
---
Our Basil Progress
Can't remember where we got this from.  Maybe local market?  This, I think, is the common basil.
Tip: Why Basil Leaves Turn Yellow (planterspace.com)
---
Don't know what variety of basil this (below) is.  Strong fragrance.  But we have not tended to it for years.  Left on balcony.  Still alive but probably could do with some care and pruning.
---
References: